Posted by Rose & Blossom on 5th Mar 2020
Coping with loss and grief is a difficult thing. As a friend or family member of someone who has lost their loved one, an expression of sympathy for the grieving person can go a long way to helping that person feel that they are not alone. When words do not seem enough, you can choose to let flowers say what you feel.
But have you ever wondered which flowers or arrangements are the most appropriate to send in a time of grief? Is it always best to opt for the traditional funeral spray, or are there other arrangements that speak better to the occasion?Here are a few of our favorite flowers to include in arrangements in order to appropriately communicate everything you want to say, as well as some of our favorite floral designs to express your sympathy in just the right way.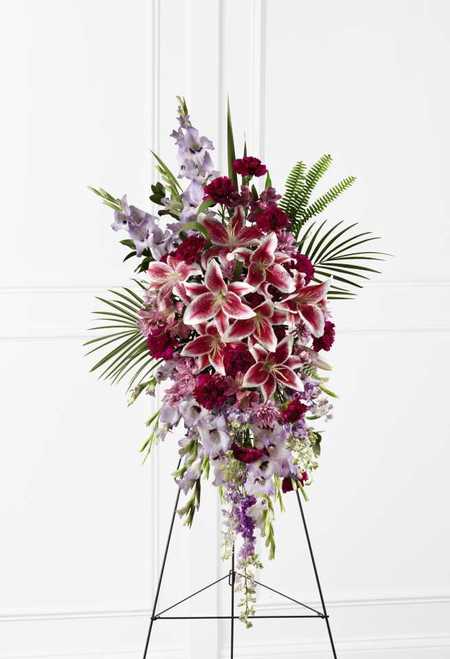 Appropriate Flowers For Funerals
Flowers have their own language called floriography. Make the funeral spray you send more poignant by choosing flowers that hold a special meaning for you. Below are the most common varieties of flowers that people send along with the special messages they convey.
1. Carnations
Carnations often feature in funeral sprays and other arrangements because they are fragrant and last a long time. Pink shades are commonly used to express remembrance. If mourning a lost friend, you can also choose yellow hues to convey how much you value the friendship.
2. Chrysanthemums
In Europe and some parts of Asia, mums are used as a memorial flower to honor loved ones and are the flower of choice for placing on graves. White chrysanthemums are the most appropriate to show grief.
In the U.S., mums are symbols of joy and optimism. Choose bright, cheerful colors to honor and celebrate someone who has lived a full and joyful life.
3. Gladioli
Tall and majestic, gladioli reflects strong character and virtue. This is a wonderful choice of bloom to remember someone who lived with integrity and great inner strength.
Gladioli come in a wide array of colors but none of the shades have a specific meaning. Choosing the favorite color of the deceased is a great way to add some vibrancy to an arrangement, and honor their memory at the same time.
4. Lilies
Lilies are strongly associated with funerals, which is ironic since they symbolize good luck and life. But they also speak of the soul's rebirth and convey a sense of peace.
The fragrant flowers often bloom in yellow, pink, orange, white, and red shades, but white is the preferred choice for funerals. Three varieties, the Oriental, the Stargazer, and the Calla, are especially significant because they symbolize eternal life, sympathy, and purity.
5. Orchids
Orchids are prized by florists and gardeners for their graceful beauty and long-lasting quality. They also symbolize everlasting love regardless of color. For funerals, most people opt for the traditional shades of pink, white, or purple.
6. Roses
Roses are typically associated with romance, but they are also appropriate for funerals. In a mourning setting, red roses convey deep love and grief for the deceased. Yellow represents friendship and your desire to honor that bond. White is for sympathy and to reflect purity and innocence. There is also a rare shade of pink, a dark hue, that stands for gratitude for everything the deceased has done for you..
7. Violets
Modesty, faith, and affection are symbolized by violet blooms. They are also used to commemorate a life that ended too soon. For a loved one that unexpectedly passed away, especially one who was young, it may be fitting to include violets into the flower arrangement.
8. Hyacinths
In Greek mythology, the god Apollo loved a boy named Hyakinthos, who tragically died young. At his death, Apollo caused flowers to grow from Hyakinthos' spilled blood. Because of this story, many florists use hyacinths in their arrangements to denote longing and sorrow for the deceased.


Should You Always Choose A Funeral Spray?
The typical arrangement for a funeral or memorial service is a funeral spray. These lush, stunning arrangements come in two varieties: casket spray and standing spray. The casket funeral spray is placed atop the casket and is typically ordered by the family.
The standing spray, an arrangement that is displayed on an easel, can be given by mourners of the deceased. It is commonly placed near the casket and can be an expressive way to show the friends and family of the deceased how deeply you share in their grief.
But sometimes a funeral spray isn't always the most appropriate arrangement to remember someone. Is the funeral a non-traditional celebration? Is it a military burial? There can be many different atmospheres to a ceremony remember the life of a loved one, and choosing the right arrangement is a big part of that.

1. Wreaths, Hearts, and Crosses
These large floral arrangements can come in many shapes. Some are circular to denote eternal life, some are in the shape of a cross to symbolize faith, while others may be heart-shaped for love. These can be sent to the funeral home or taken to the gravesite.
If the funeral is celebrating the life of someone who has opted for cremation, a stunning floral wreath can be placed encircling the urn. This provides a beautiful place of honor for the loved one, and symbolizes the eternal love of all those they left behind.
2. Dish Gardens
Dish gardens are growing plants that are usually contained in a bowl, shallow dish, or arranged in a basket. These can be sent to the wake or to the deceased's family's home.
3. Potted Plants
Potted plants are also appropriate, although not very common, to give as sympathy flowers. One benefit of a potted plant is that the family of the deceased can enjoy them much longer than if they were given cut flowers. When grieving a loss, it can be healing to receive a gift that will keep living and blooming long after other cut flower arrangements have faded.
Tropical potted plants are a fine gift to send to loved ones, but you can also send a stunning flowering plant such as a hydrangea, rose, peace lily, or orchid.
Choosing The Appropriate Floral Arrangement
Regardless of what type of flower or design you choose to show your support and love, it's always important to be considerate of details. Sending brightly colored flowers for a tragic death can seem insensitive, and delivering a funeral spray to a private residence can create a hassle for the family.
Sending brightly-colored flowers are fine as long as the family of the deceased feels it will be appropriate. Otherwise, use bright shades sparingly and opt for the traditional feel of a white arrangement.
Small floral arrangements may be sent to the deceased's family's home, but larger ones should be sent directly to the funeral home.
Need Help Choosing The Right Flowers?
Express what's in your heart through kind words and flowers. If you are unsure what to send, you can consult with us by calling (509) 921-7673 or you can drop us a message here. Our compassionate floral professionals will arrange and deliver your order with great love and care.