Posted by Rose & Blossom on 24th May 2018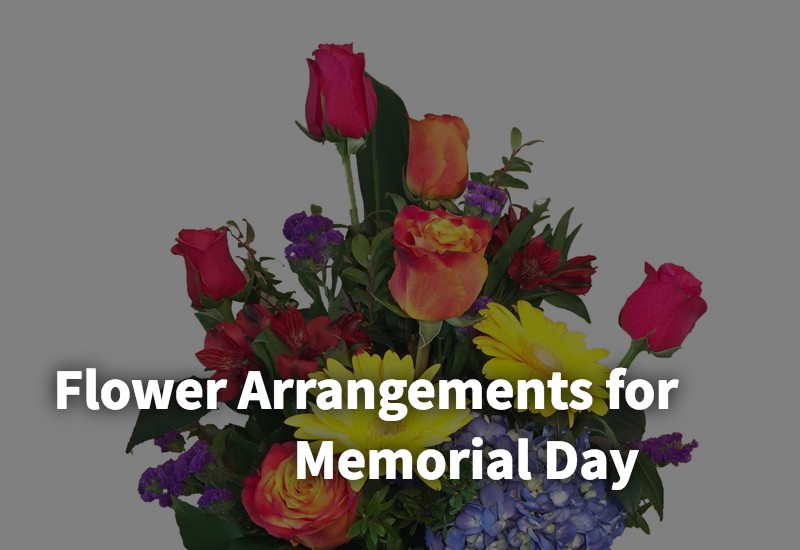 Memorial Day is on its way, in fact it's this coming Monday, May 28. For many Americans, Memorial Day is a day to celebrate those who have served our country and those who risked their lives to protect our freedoms. For others, it's a day to celebrate the freedoms we've been afforded — we enjoy parades, barbeques in the spring weather, and gathering with friends and family. Regardless of where you find yourself this Memorial Day, the florists here at Rose and Blossom are available to help you celebrate and memorialize the lives of the many soldiers we've lost in order to retain our freedoms. Here are a few bouquets and flowers that are sure to be perfect to celebrate our American freedoms and those who sacrificed themselves for our country.
Our Happy Day Bouquet
Memorial Day may be marked with sadness, but it's also an undeniable celebration of our way of life. If you're looking for the perfect way to celebrate this Memorial Day, take a look at our Happy Day Bouquet. This bouquet includes an elegant vase, six roses, two gerbera daisies, hydrangea, and accent flowers. It's a perfect centerpiece at the picnic table of your Memorial Day barbeque. This arrangement is sure to fill the air with a wonderful aroma, and it will bring a smile to anyone's face. The bouquet is 18 inches tall by 12 inches wide, and you can select specific flower colors as long as the the overall color theme remains the same.
The Garden's Bounty Bowl
Our Garden's Bounty Bowl brings the bounty of spring to your celebration. This fragrant bowl includes a collection of roses, carnations, lilies and more. Smaller than the Our Happy Day Bouquet, the Garden's Bounty Bowl measures about 10 inches by 12 inches, making this display a perfect accent for your tabletop. Make our Garden's Bounty Bowl the center of your Memorial Day Celebration this year. Take note, you can also select specific flower colors, as long as the overall color theme remains the same.
Custom Bouquets
Head over to our Spring catalog of flower arrangements to get a custom bouquet from one of our lovely florists. We love to create custom bouquets, and we'd be ecstatic to help you make the most of your Memorial Day with an arrangement that's perfect for your plans. Each of our florists is experienced with arranging flowers for special occasions, and we know that Memorial Day is a very special occasion.
Best Wishes This Memorial Day
We wish you the very best this Memorial Day, however you choose to celebrate and commemorate those who sacrificed themselves for our freedoms. As always, we're ecstatic to create imaginative colorful flower arrangements to cater to your celebrations, and we love to provide delivery services to our neighbors throughout Spokane, Spokane Valley, and Coeur d'Alene. Reach out to us if you have any questions about our florist services, or our deliveries! And take note, we can usually provide same-day deliveries, so long as you place your order early in the morning!