Posted by Rose & Blossom on 22nd Jun 2017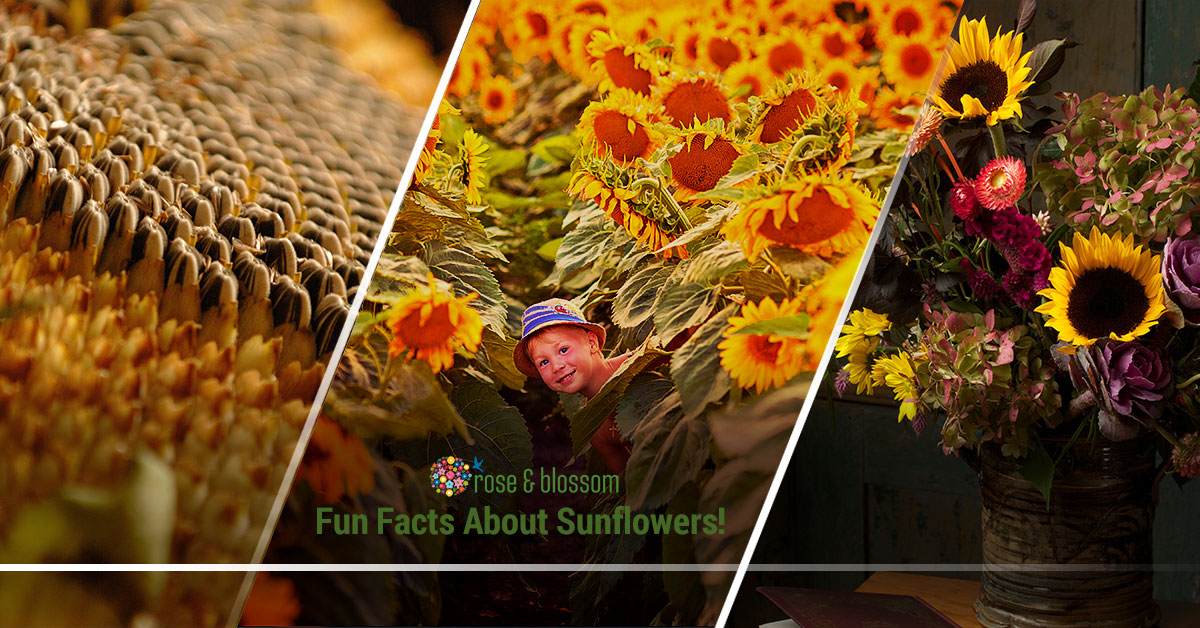 At Rose and Blossom, we're all about summer. The extra sunshine and the warmer weather mean that some truly beautiful blossoms are coming out to play. The same sunshine and warmth can be found in one of our favorite floral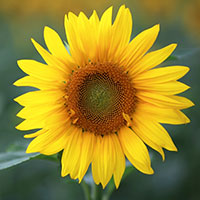 varieties: sunflowers! Read on to find some super sunflower facts, and be sure to check out our sunflower selections at Rose and Blossom!
Their scientific name is He
lianthius, which comes from the Greek words for "sun" (helios) and "flower" (anthos). Despite the name, sunflowers are not native to Greece!
Many believe sunflowers are native to North America, with the exception of three species found in Peru. There are over 38 species of sunflowers just in North America alone!
In modern-day Arizona and New Mexico, Native Americans grew sunflowers as far back as 3000 BC.
Sunflowers have been used as food for a long time! Some indigenous tribes used the seeds to produce sunflower oil for cooking, as well as ground into flour for cakes or bread. Even today, a trip to the grocery store or gas station will result in finding sunflower seeds for a tasty snack!
While uses for sunflower oil have been around for centuries, Russia became known for beginning to mass produce sunflower oil. To this day, they are responsible for over 20 percent of the world's sunflower production.
Although sunflowers are native to North America, Ukraine actually produces the most sunflowers in the world, with 11 million tons produced per year. They are mostly cultivated for creating sunflower oil and sunflower butter. Russia comes in second place for producing the most sunflowers.
Sunflowers are famous! Vincent Van Gogh created some of the most famous paintings in the world when he used sunflowers as a centerpiece. His sunflower collection is renowned for its influence on the art world.
Sunflowers are iconic for their bright yellow flowers surrounding a central disk. The center disk is actually comprised of many little flowers!
The beautiful sunflower can grow incredibly quickly. While some varieties grow 2 ft. in a year, others can grow up to 12 ft. in height!
Sunflower farms are growing in popularity, simply due to the increasing number of visitors. Those who check out a sunflower farm in mid-to-late summer will be dazzled by the brightness and beauty of this wonderful plant. Check out a sunflower farm to take some incredible photos!
In both ancient and modern times, sunflowers have been known to represent warmth, positivity, and friendship. Purchase a bouquet from Rose and Blossom today to show some appreciation for the ones you love!
Sunflowers have hit the big screen! Movies like "The Night of the Sunflowers" and "Sunflower" featuring Sophia Loren have received critical acclaim over the years.
With summer well on its way, we are so lucky to witness the burst of sunshine that comes from sunflowers. No matter what the occasion, sunflowers will turn a special occasion into a perfect one. Update a rustic and chic wedding with some sunflower centerpieces, surprise a friend, spruce up a summer dinner party with some decorative sunflower bouquets—the possibilities are practically endless! No matter the flower or the event, Rose and Blossom is here your for flower needs all year long. Place your flower order with Rose and Blossom today!