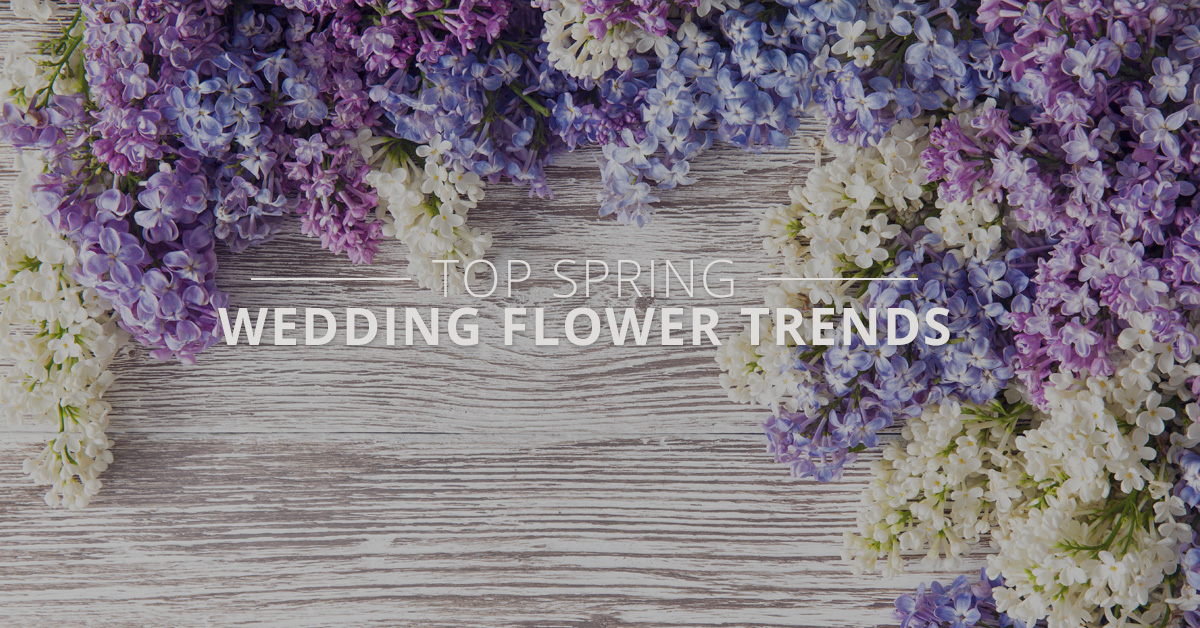 Springtime is a great time of the year to get married. There's a reason it's one of the most popular times for weddings. The weather starts to get warmer, you see more of the sun, snow melts and flowers begin to bloom, leaves start to grow back on trees; every year springtime brings a feeling of new beginnings, just like a new marriage. The flowers in springtime are unparalleled and the spring wedding flower trends are constantly changing. At Rose & Blossom, we make sure we know about the trends in wedding flowers for each season to deliver the most beautiful floral arrangements to each of our clients.
Trend 1: Color Contrast
One of the biggest spring wedding trends with flowers, especially bouquets, are adding in contrast between light pastel flowers and darker flowers with rich colors. Many florists use this method to incorporate the wedding colors into a bridal bouquet or table centerpiece. The trick here for spring is to utilize the light and delicate pastel-colored flowers as the primary color of the arrangement, with the dark colored flowers as a subtle accent here and there. This gives your bouquet, centerpiece, or any other wedding arrangement a pop of color, while keeping the light and beautiful feeling. Your bouquet is one of the most photographed elements of your wedding, so you want to make sure it represents you and your significant other.
Trend 2: Peach and Orange
Just like warm reds and yellows are popular for fall weddings, peach, pink, and light oranges are popular colors for spring weddings. Orange and peach bring a feeling of whimsy and life to your floral arrangements, without dominating the overall look. Colors in the peach family also match many personal styles. Whether your wedding is traditional, boho, rustic, or modern, a pop of peach will elevate the look and feel you are going for with your flowers.
Trend 3: All-White
Another popular trend in spring wedding flowers is an all white bouquet. Nothing is quite as elegant and clean as a simple white bouquet. An all white bouquet with greenery accenting the delicate, white flowers is a springtime staple. With all kinds of flowers coming into bloom in the spring season, an all-white bouquet accents the textures and simplicity of the flowers rather than adding emphasis to color. Springtime brings beautiful flowers such as: apple or cherry blossoms, daffodils, dogwoods, forsythia, hyacinths, hydrangeas, peonies, roses, lilies, tulips, and more, which all come in white. All-white flower arrangements are a timeless, spring wedding classic that never seems to go out of style.
Trend 4: Succulents and Greenery
An upcoming trend in wedding flowers is to add succulents to a bouquet or centerpiece. Succulents are great for spring because their muted hues serve as a perfect accent to any color of flower, even white. Succulents come in a variety of different colors, not simply green, and act as a perfect accent to any arrangement of colors of flowers. They also add a unique texture to your bouquet, centerpiece, accent piece, or any other wedding floral arrangement. This is perfect for a wedding with both a rustic or modern feel in mind. With succulents, there's never too much. You can have simple, small accents, or an entire bouquet made of succulents, and still have a floral arrangement that wows your guests.
In a springtime wedding, the flowers are one of the most important elements because, when done right, they add an entirely new depth to your wedding's atmosphere, and the experience your guests will have when they arrive to your special day. At Rose & Blossom, our florists work with you to create the perfect floral arrangements that captures the essence of you and your significant other. We work to utilize the latest trends in wedding flowers to make your day exceptionally beautiful. Contact us today to learn more!