Posted by Rose & Blossom on 12th Feb 2020
7 Tips For Choosing The Perfect Valentine's Day Flowers
The 14th of February is quickly coming up, and you might be in a rush to send out Valentine's Day flowers to that special person in your life. And if you're really feeling romantic, the perfect flower is a rose. Now, while red roses are practically a staple for the occasion, they might not match exactly what you feel. The saying, "a rose is a rose is a rose" shouldn't be applied to one of the most romantic holidays of the year! Thankfully, for almost every affectionate feeling, there is a rose color that you can use to convey your sentiments.

Here's how to choose the the perfect Valentine's Day roses for your sweetheart this year:

1. Red means "I love you."
Red roses symbolize deep, romantic love. It can also mean perfect beauty. Giving red Valentine's Day roses means that you are committed and serious about your relationship, and your Special Someone is absolutely perfect in your eyes.


2. Pink says, "I admire you."
Pink is a sweet color that reflects affection, admiration, and happiness. It is also identified with grace and elegance. You can give this to a friend to show just how much you appreciate them.

3. White shows, "My love is pure."
White roses convey deep, true love. White roses are traditionally used at weddings because they represent purity and new beginnings. Choosing a bouquet of creamy white roses is the perfect way to tell your Valentine that you really are truly, madly, deeply.

4. Orange reveals, "I am passionate for you."
Orange roses indicate desire and enthusiasm. Send orange roses to that person that makes you feel excited, passionate and adventurous.


5. Yellow says, "You bring joy to me."
Yellow is a warm, happy color that evokes feelings of happiness and joy. Roses of this shade can be sent to a lover to show your happiness and contentment in the relationship, to a family member you hold dear, or to a friend to celebrate your friendship.

6. Lavender declares, "I fell in love with you at first sight."
Lavender roses express to your Sweetheart how enchanted you are with them. It's a shade that is often identified with feelings of adoration, magical love, and fairytale romance.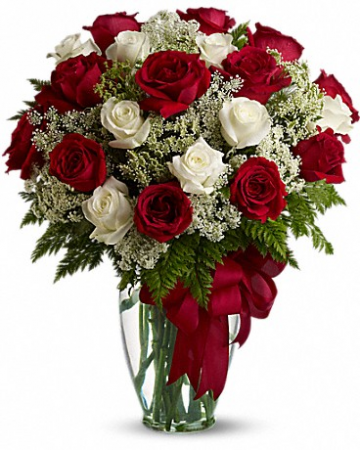 7. Red and white together says, "We are great together."
When used together, the two colors symbolize unity. Send these Valentine's Day roses to your Special Someone to celebrate a partnership that just feels right.
You can also match these shades with each other if you feel like one color doesn't express your sentiments enough. Or, mix and match your Valentine's Day roses with other flower varieties for a lush and expressive bouquet.

Other Flower Varieties You Can Use To Express Your Love

While statistics show that roses are the overwhelming favorite when it comes to Valentine's Day, they're not the only varieties that recipients in the United States like to receive. Take a look at some of these well-loved alternatives:
1. Tulips - 16%
To veer away from the traditional rose, you can send red tulips instead. These beautiful blooms symbolize perfect love, and will add a delicate fragrance to your Sweetheart's home.
2. Daisies - 9%
Daisies are linked with purity, but they also symbolize true love. Add daisies and yellow roses to an arrangement as a happy, bright, and romantic way to say "I love you!"
3. Orchids - 8%
Orchids have been used since the Victorian era to show affection. It was believed that the more exotic the variety, the deeper your love is. If you happen to be celebrating your 14th anniversary this year, orchids in a pink shade will be perfect to give this Valentine's Day. But for passion and desire, red is, of course, still the classic color of choice.
4. Lilies - 8%
Just like with roses, lilies offer a wealth of meaning depending on the color and variety. Pink lilies represent admiration and love, while purple lilies convey passion and luxury. White is associated with marriage and purity, while red expresses desire. A deep pink Stargazer Lily will add an exotic and eye-catching feel to your Valentine's arrangement, as well as a sweet and romantic fragrance.
5. Sunflowers -7%
While not a rare flower, sunflowers have their own unique charm. These happy blooms convey adoration and loyalty. In mythology, it was said that a nymph who was turned into a sunflower loved Apollo (god of the sun) so much that even in flower form she continued to turn her face to follow him.

Order Your Valentine's Day Roses Today!
Whether it's for a romantic interest, a friend, or a family member, giving flowers is always a great idea to show affection.

Still not sure what to order for that Special Someone in your life? No problem! Here at Rose & Blossom, we are Valentine's Day experts. Call us TODAY, and we will help you design a stunning arrangement that will communicate everything you want to say with love.

Happy Valentine's Day from all of us at Rose & Blossom!